Teams
In recent years, many sports teams have chosen to work with a mental trainer in order to achieve a good performance together, at the right time.
We offer several possibilities for teams in regards to mental training. Most team choose our complete mental training workshop, which consists of 5 workshops of 2 hours each. As a team you will be working on five goals: dealing with tension, improving focus and increasing motivation and self-confidence, and improving cooperation and communication. The training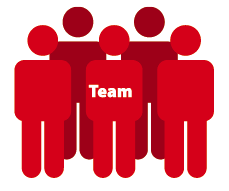 addresses mental skills such as goal setting, realxation, energising, visualisation and thought training. Please visit the Mental Training page for more information.
Moreover, you and your team can choose several seperate workshops, like the Teambuilding workshop. You can also choose a combination of different workshops.
Please contact Grip Psychologen if you are interested in attending a mental training or a workshop with your team. We are more than happy to help you figure out what best suits your wishes.